So La Ruta de Los Conquistadores. The "hardest bike race in the world" they say. I haven't done all the bike races, so I cant comment on that. But if you like your bike games with a extra side of adventure then La Ruta needs to be on your list. I absolutely had a hard time getting really fired up and motivated for this years version of La Ruta. Last year I didnt really have much "fear of the unknown," this year I did have a bit of a fear of the known though! Perhaps not fear; but rather full knowledge of the effort La Ruta takes and the punishment it takes on the body. And this year I was sure would be no exception. After my virus in the late summer and a season that kind of fizzled out late this year I had a hard time really amping up for LaRuta 2015. But I built some stoke and boarded the plane none the less, determined to do my best and make some friends along the way.
I once again was honored to travel with Roger Masse, Brenda and Lee Simril, and Keck "the conquistador" Baker. I was really excited about spending time with this crew as they are second to none quality folks. Our group was joined early and often by Tinker Juarez and I really enjoyed getting to know "the living legend" more this trip in more than just front group banter. Because of my belief that race recaps are boring I thought maybe I'd tell about some of the most inspiring, exciting, or memorable moments from this years race.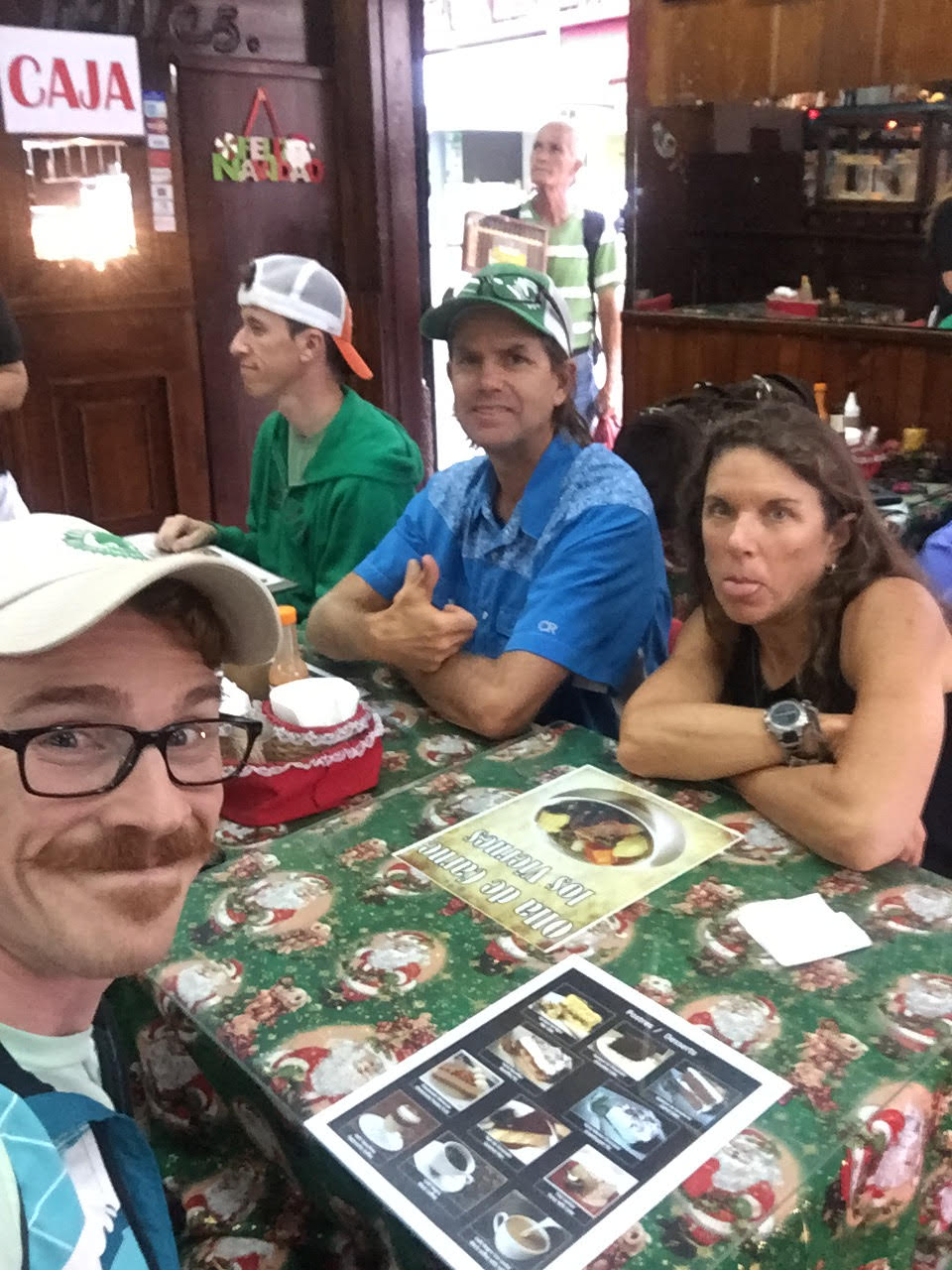 Roger and his baby
We discuss the best way to make Lee's flying toy fly highest, competitive arent we?

"Day Zero" is always a favorite. Its a day where we can all rest our legs, settle out, and enjoy the company of friends we love. This year instead of going directly to Jaco beach near the start of Day 1 we would remain in San Jose, appreciating this hub of the country. Around 3 million of costa rica's 5 million live in the Central Valley. At night from elevation it looks like a glowing serpent, winding through the valley. You can see the glow of its lights for miles contrasted with the dark of the wild parts of the country. Its people are warm, friendly, and unless they are taxi drivers, excited to see you. The Ticos have a saying; "Pura Vida." I capitalize this because its also their national marketing motto; but people treat it like a salutation. THey meet you on the streets and instead of the normal hellos its "pura vida." They love and LIVE this saying. The Ticos are an amazing, passionate, nationalistic, and proud people. They take care of each other, and their home. Keck at one point remarked how much cleaner the country was than his recent trip to Ensenada Mexico for the Baja 100K, I replied Pura Vida! The Ticos absolutely get it. They live a pure life, and a life to the fullest.
2015 featured a slightly lengthened Day 1, we would ride around 70 miles from the Pacific coast to a city on the outskirts of San Jose, the Central Valley. This takes us up the steepest wall of a climb I know of anywhere, above the clouds. Averaging 19% for around 9 miles, including a short stretch of slight downhill. I struggled a bit coming up the steep pitches of the climb, let the front group go and enjoy their day, and so plunging into the jungle I found myself with a tico, Alejandro. He and I enjoyed our time in the jungle probably too much. He was willing to ride more than most and so we spent a lot more bike time than a lot do in the jungle. As a side note "jungle" is not a misnomer. Support and aid vehicles cant enter the jungle with riders. They have to go around and wait on the far side of a river, nearly 30 miles later. The section of jungle racing is long, wet, challenging, and emotionally taxing. It pushes the boundaries of each rider and knowledge that so much more awaits almost makes this section harder. An American was swept away by a river this year and spent almost two days lost in the jungle before rescue crews were able to locate him and evacuate him. Its no joke. Alejandro and I however made light of these challenges and sped along, emerging in pretty solid time where others would lag behind for hours. Alejandro and I chatted about his family, our favorite music (I dont know much Red Hot Chili Peppers but what I knew we sang), and the things that we werent worrying about right then. He and his brothers own a coastal themed restaurant in the mountains not far from the coast. Id like to visit there some time, beers on me Ale.
Taming the steeps with Alejandro
Teammates for a day with Gabriel
Coming out of the jungle I climbed clear of Alejandro and while we werent able to say any goodbyes its a mutual understanding that every rider must make his own path. And as I made mine I eventually stopped for a nature break. Lighter and merrier Gabriel joined me. He was the leader of the Tico team "Positivos," and a more apt team name there has never been. These guys are a RIOT! Gaby and I rode together the rest of the day. Climbing, descending and rolling through the latter portions of the longest day of LaRuta 2015. We shared homemade cookies his family farm makes, they were amazing. I had a bit of an altercation that ended with me screaming to a halt to avoid a minivan and only barely slowing enough to make a foot through the bumper be the alternative to a face through a windshield and Gaby stopped to back me up as I "negotiated" with the driver. Because I carry my insurance card in my skinsuit….
Hiking with Alejandro
Gaby began to fade a little as the day went on and the road tilted heavily up. Fortunately with plenty of long days in my legs I was starting to feel pretty strong. The cheers, jeers, and reggaeton music coming from his team car was welcome and between the team support and the cameraderie Gaby and I made it to the finish line. He got away from me during a long screaming fast road descent (1 gear remember) but I was able to climb back up to him on the final ascents nearing the finish line. Gaby and I crossed the line arm in arm, 12th and 13th overall. He and his team were elated and I was officially an honorary Positivo. I couldnt be more honored. Gaby had said he loved my Handup "Merica" gloves. And so I gave them to him. I hope he uses them well.
"Dia 2" in the past has been a route up and over the Turrialba Volcano but since the volcano has become unstable in recent years they race directors have had to change the course. This year they brought back a modified (and lengthened) version of an older day 2. 54 miles and 13780 feet of climbing awaited us. Thats about as much climbing as the Shenandoah 100, in half the distance. The most climbing I can put together in North Georgia in 50 miles is around 10k, and thats a lot of climbing.  I spent most of this day alone. Lost touch with the lead group on the steep 30% incline shortly after the start, unable to grind my gear through the busy choppy pack of riders. I climbed clear of one group until the aid station, where they caught me after refilling my bottles (they all had support teams handing up) and didnt get rid of them again until the long stretch of uphill singletrack. Sweet Sweet singletrack. Day two featured two stretches. One long fairly techy uphill portion where I broke clean free of the struggling ticos, and another descent which reminded me of a jungle version of Squirrel Gap in Pisgah Forest. An amazing steep downhill right with a waterfall behind it was a memory Ill have forever. Josep Betalu was in front of me and he popped off and skipped down it, jumping across the creek beneath. I opted to stall move to get in position and drop into it on the bike. I love slow speed technical moves where you have to take your time to line up, and then drop in, and this was textbook clean. Great runout until you reach the creek, smooth deep scree pile surface to keep the wheels lined up. It was perfect, and I needed that recharge!
Up Up Up we continued. This day just kept climbing. It was absurd and it was demoralizing at times. Were it not for the locals, the back woods folks, the cheering school children, the workers logging the forest, I probably would have been in a much worse place. The course profile doesnt do this day justice. It is never ending steeps. The climbs didnt "pitch" to steep; they just stayed steep! 20 and 30% dirt roads where corners or particularly steep parts had concrete poured down them to keep them from eroding clean away! I wont lie and tell you I rode all of it. Those matches run out quick, and my 34×22 gearing was serving me well, but even that short of a gear is hard to clear on 30%! And it never ended. The race directors had provided little sticky backed course profiles this year and no matter which little bump I thought I had found myself at the summit of I quickly pointed right back up again. Finally I crested the top of a long climb which I could identify as the beginning of a steady descent, at least equal to the pitch I had climbed.Greeting me was a local on a mountain bike who offered to shepherd me down the descent. Holding his wheel and following his knowledgeable line I found myself easing up and admiring the view. You dont climb to 8 thousand feet and not have a view. Some said we went higher but I didnt feel any affects of altitude which I usually do higher than 9k. And from this height I could see for miles and miles, all of the central valley laid out before us, clear and beautiful skies gave way through the city to the other mnoutnain range which together with the one I was on made up the central valley. San Jose snakes its way through this valley. A snake of brilliant and beautiful colors and lights dotted with Wind turbines on mountain passes and geothermal activity in volcanic craters. This place is alive and I was riding through it. I dropped into the aid station where I handed my bike to the neutral mechanic and asked him to check my gears. He slung my bike up onto his repair rack, and got out his wrench set while I and his companions waited for the joke to hit. I try and be light hearted in aid stations when I can. The moment of human interaction is as valuable to me as a racer as the nutrition is. He laughed and turned red while we joked with him. One of the Carmichael Training Systems aid workers came up to me and asked if I needed anything. He gave me a pack of my favorite gel blocks, Gu Roctane and I was back in business! The kindness, the laughs, and the smiles at that aid station would have to last me to the finish. Down a steep gravel hill and I quickly caught the Tico who had guided me down the road descent into the aid station. It seemed like his course knowledge was outstripped by my ability to ralley technical fireroad and I lost him as I descended into the valley. This descent never quit. And not in a good way! I kept going further and further down. The cool mountain air was stifled by heavy wet jungle heat again. The road surface deteriorated. And I passed a 1970s Nova (which ironically is "No-Go" in Spanish) which surely hadnt gone anywhere since it was ditched as it couldnt have gone up what I came down even in its heydey!
Again with the UP!!!! They dont kid around in CR. This day was hard. "Long" is a relative term to someone who makes his way 100 miles of racing at a time. I start to think of a ride as "long" when the start feels as distant in my memory as days prior. I remember some details, but exactly how I came to this point I couldnt have told you. I had been alone for ages, even my inner voice had gone quiet facing these walls. I had thought this short little hump would be a trivial part of my day. A brief hurdle before I could cross the finish line and celebrate two down and one to go. But it turned out these hateful ups would show me that just like its people, the landscape of Costa Rica never gives up. Bu fortunately, blisfully, dirt turned to gravel, which hardened into concrete, which eventually and mercifully turned into smooth asphalt and a summit. Down I went. Screaming hub pawls ringing in my ears and in my wake. 30 MPH brings cool and wild winds, 40 turns pleasant into howling, and 50 MPH plus brings winds so loud you can barely think. The smooth pavement was going to claim some skin that day, but it wouldnt be mine. No. Not this guy. Sailing down the mountain toward the flat runout the speed became more gradual and eventually I would have to spin-and-tuck spin-and-tuck so that I could build enough speed to make time towards the finish. A group of Ticos in their car had decided to join me help bring me to the line. They rode my tail and used their loud horn to push other traffic out of the way, alerting them to my presence and moving them aside. They clearly were enjoying their feeling of importance too, and to my benefit! Eventually I saluted my new friends and was flagged right into the grass, a short loop through a field and into an ancient grass hippodrome I went, red finish line banner in sight. What a day. "Lico" Ramirez; the winnengest LaRuta rider of all time, won the day. Immediately after he called it the hardest day he has ever had on the bike. Thats saying something.
doesnt get much prettier than that!

Day 3. The last day of our epic journey. Hotel lobby at 5AM, bags packed, ready for adventure. Roger, Keck, Tinker, Brenda, Lee and I met and made our way to our shuttle to take us to the river. We met our river guide Daniel on the bus. After a short stop to pick up another rider (during which I ran across the street to buy some fresh baked cookies and pastries) and many many tales and stories swapped between Daniel and us we arrived at a dirt road at the end of which we could see a river. This road was no joke though. Our bus slid sideways on more than one occasion as the driver (who earned his cookies) navigated us safely tot he bottom. Unloaded we picked out our cutest whitewater helmets and vests and loaded into Daniel's boat. He seemed as giddy as we were. I think we each realized we were very lucky both to have Daniel, who was clearly an accomplished waterman with great English, fantastic wit, and a heart of gold and us, a couple of scrawny adventurers fresh from the fatigue train but with life experiences that could indeed fill a boat! We were all a sight to behold in our little rubber ducky. Our trip down the Pacuare river gave us all an incredible depth of  appreciation for this place. The Pacuare is an undammed force of nature. Its topography changes with the seasons, new lines and features open and close. It breathes with the rhythms of the year. It separates a couple of indigenous native cultures from the populated parts of the Eastern Valleys, and allows them to make their home with it. Costa Rica is entirely self sufficient in terms of energy production, and entirely green in its electricity production. A country blessed with geothermal activity, many rivers, and high windy peaks, there is actually substantial profit to be made by exporting energy to Guatemala and Panama. Because of this there is a great deal of political pressure to dam more rivers and punch more holes in the ground. Daniel and his friends on the river are passionate believers in letting the water flow. And if a mechanical digger or a prospecting toolbox catches fire or goes missing from time to time, its ok by this guy too. Through 18 miles of calss 3 and 4 whitewater Daniel guided our troupe. Tinker was no lover of the water and probably would not have joined us had Keck, Roger, and I not jeered him so much. On one occasion we all burst out of the confines of the boat to enjoy some mild water, only to surface and see Tinker had remained, the lone inhabitant of our boat. Under waterfalls, and through canyons we passed, eventually crossing under one of the infamous rail bridges of day 3, bringing what lay ahead crashing back to reality. It was about to get real again kids.
Dressed, dried (mostly) and ready to line up we took a picture with Daniel, a moment which he clearly was enjoying, and so where we. Daniel had the privilege of rafting with some really rad folks I reckon, and Daniel… so did we. It was an honor and a pleasure my friend. Our bikes located, and kits and leaders jerseys snug(ish) we found our way to the start line. Because of the rafting we had gained 5 minutes of time bonus on our competitions but would still have to work for our final placings and a shortened day 3 was sure to hot, fast, and crowded! The 34 miles and 400 feet of elevation change made for a quick day indeed. I was under geared, having chosen the 34×18 I chose on day 3 of last year, which was 70 miles and featured two Cat 2 climbs. Also the time we had spent in the raft was super and I wouldnt have forsaken it for anything, but a full day in a boat under the hot sun being tossed around by forces of nature is hardly ideal preparation for hot fast straghtline speed! I found myself feeling pretty awful pretty fast. A little fatigued, a little motion sick even, and very dehydrated I struggled to run with the fast guys that afternoon. I found myself maybe 15-20 riders back in a motivated pack including some guys I knew. This group consisted of one of Alejandro's teammates who I shared a coke with, another rider who I had sang songs with on day 3 of 2014's race, and more riders I had come to know in different ways over this or last years journey. Eventually my body came around and I started feeling pretty good. Doing work and making some headway to reduce our group. Still the 5 rail bridges we had to cross remained ahead of us. The race directors had removed two of the sketchiest and the longest of these over hundred year old relics, but there was still fun to be had. It had been a year since I stood by myself frozen 1/3 of the way into the first of these. Im not a "brave" man. But I am a man who has the ability to push limits, find boundaries, and keeping going beyond them. This year I trotted across those bridges like there were disneyland sidewalks.!Same shoes even, just a different attitude. When our group had slowed to a glacial pace on one of the longer bridges I peered around the rider in front of me to see a Tico was breathing heavy and looking down. Clearly this was his first go! A rider in front of me burst outside the rails and made a pass on him. Reflexively and a little surprising even to myself I did the same on the other side. We double passed that fella like he was the frozen statue of me last year. It was almost out of body, looking down on myself passing him. Unreal. I was proud of myself. Still am. Now to find something else that scares the wizz outta my shorts!
Banging along on the railroad ties I was able to make passe any time even a modicum of technical presented itself. My game as a singlespeeder is all about keeping momentum when others squeeze the brakes. Each time we had to cross the tracks Id hop smoothly instead of slowing to jump by foot. Whenever the path we were riding would lead over a ditch or a railroad tie would become exposed Id make sure to smoothly leap the bike clean over it. Keeping clean on the bike allowed me to hold onto my group where otherwise I might have been in trouble. A shared coke from a neutral support vehicle (one of Alejandro's teammates split it with me and we threw the water bottle that held the soda to a couple of kids when we were done) and a bag of fruit from another friend's team and I was in business. Our group winnowed down to just a couple and just before I knew the tracks were coming to an end I saw my friend Trevor DeRuise parked on the side of the tracks fixing a flat. Trevor and I had ridden together briefly each day as either I was riding well or he was having a rough go of it. It was kind of nice to see him and be able to have a gringo to work with near the finish. I was not concerned with my placing at this point and so I stopped to chat and see if Trevor needed anything. He was good and we were rolling again shortly. Trevor is skinny as a rail and monster strong. He routinely crushes xc and short format races out west and I absolutely loved kicking through the remaining tracks and on to the sand with him. He was a blast and we enjoyed slamming the last miles of this epic journey together.
Off the tracks, off the sand, and finally on to the rough road which eventually leads to pavement launching us to the finish. We had been joined in the meantime by another Gringo, and one I was glad to see. Brad Cobb from Chattanooga was doing his first LaRuta and was finally having a good day on the bike. Gringos usually shine on Day 3. Power to weight is less of an issue than all our power and so a guy like me or Brad can make some moves on the third stage if he wants. I motioned to brad to settle back with me for a second and explained the finishing pitch and following descent and finish line situation to him. I told him there was a bridge, then an uphill left and if he was gonna make any moves that was the place to make it. The climb is just long enough to make it a great test of power and it often sorts out the stronger riders leading into the last mile of the stage. Trevor also knew about the hill and when it came we all wasted no time; Trevor leading followed by Brad then I. The Ticos who were with us fell into the mix as I bridged up to Trevor and did my best to hold on. I knew if I could summon one last huge powerful spin I could track onto Trevor and hold him to the finish. Unfortunately; but perfectly for him, he held smooth power over the crest of the climb and onto the finishing straight, losing me in the process. He later would say he was glad I didnt have gears just then! If the third stage stays the same Ill run a bigger gear in the future. If I dont bring all the gears that is!
The finish line is right on the bridge on Playa hermosa in Limon. And a beautiful beach it is! Over several sand bags (over in the air typically for the gringos) and onto the softest fluffiest power-sucking sand there is! I got blocked out of the corner by a falling rider and unclipped to run across the finish line. Bike in the air and a howl of victory, success, and survival! This is one of the best feelings I know anywhere and LaRuta brings this finish line high like nowhere else.
1st SS, 13th overall (I think) and tougher, stronger, and wiser for the experience. LaRuta de Los Conquistadores is unlike any bike race or adventure anywhere else in the world. It is incredible, life changing even. Its bigger than me, bigger than any story or legend. It is something every finisher carrier with him or her forever and something that is a part of them. The smiles of new friends and old greeted me there. NUE series director Ryan Odell made good on his promise of a cold beer, and before long I was reunited with Keck and Tinker, celebrating their own successful finishes. Hopefully these words and the pictures accompanying them is enough to give you an idea of this journey, and hopefully that little part of you will feel the draw I feel to Costa Rica. Maybe the Indiana Jones theme will play in your head, maybe youll feel the spirit of adventure welling up inside you and just maybe, Ill see you there next year!
This is for Fernando, Guillermo, Florencia, Erika, Ana Maria, Daniel, Roman, and so many more who are friends, family, and fellow adventurers. Pura Vida friends. PURA VIDA!!!