While the Fools Gold 100 was my last NUE series race for the year its always apparent to me that there isnt really an "end" to this season. I will take some active time fully off the bike following LaRuta in November but really as soon as the Endurance racing calendar gets thin the endurance riding starts up! Folks wanting to enjoy fall weather and amazing autumn beauty are getting out and riding longer and longer. Additionally sponsorship communication for the following season is in high gear, race calendars are taking shape, and even some of the stress of a new season and an offseason which in its own right is growing shorter and shorter is creeping in. Endurance racing is its own endurance event! I liken it to a matchbook, just like a matchbook for a particular effort or race, an endurance rider has only so many sticks to burn before the book is empty. Last year I completed 10 hundred mile events. This year I am sitting at 9 and looking to the Cahaba 100 in Birmingham Al to maybe be my 10th. Reflecting on how much I felt like an empty matchbook there is hard though, especially with LaRuta in the forefront only two weeks after.
Its very hard sometimes to let yourself relax and enjoy this time of year but its incredibly important to do so. Get a little "doughy," go for a walk or a hike instead of feeling the pull of the bike, take a roadtrip without bikes! Relax and allow yourself to enjoy the end of a season. Anybody reading this will have done some cool stuff in 2015, and while 2016 holds a LOT of promise and some amazing opportunity let it sit out there for a little while longer. There is an awful lot of great racing in the fall and I look forward to doing some of my favorite fall events but its very important to let the body and mind recover. Let the focus blur a little and maybe even relax your own expectations.
When I came home from Rincon Challenge in Costa Rica I felt great! Thinner, accomplished, and rejuvenated from a week with amazing friends new and old. But shortly a few days later I felt a tingle of something terrible. Small headaches and general achiness characteristic of influenza…but not the flu. I didnt have ANY gastric distress but had raging headaches, terrible fever and chills, and joint pressure and unbelievable aches and pains. This was something else. I worked through it (and by worked I mean suffered couchside) and came out feeling much better by the couple days before Shenandoah Mountain 100, my favorite 100 mile race in the world, and was looking forward to defending my SS title. But laying in the tent the night before my heart rate was still very high, and my body still feeling the toll of the sickness. I started strong and was where I needed to be going into the woods but my body quickly proved unable to generate the kind of power it can. It was like someone turned off the lights, every effort was a matchstick, flaming briefly and violently and then done. My legs, lungs, and particularly my heart just could not work through the rhythm of movements and efforts they instinctively do so many other times in a race. I floundered. So many of my friends and fellow racers were kind enough to not ask to pass or to gently encourage me but they could all tell something was VERY wrong. I wasnt myself. All I could do is suffer, without the benefit of forward momentum my suffering usually brings!
Walking up Lynn Trail at Shenandoah I decided I couldn't do this. Not the type of "i cant do this" we all say from time to time when things get really hard but a different kind. My body simply could not do it. While I had recovered ostensibly, to the eye, it was clear my heart and lungs were still battling the sickness. As I was passed by more and more friends and started to see new faces I started to get some great encouragement. Folks knew I was sick going into it and as the singlespeed family came by I encouraged all of them. To Donnie Powers, the first to catch me, I quietly hiked along and said "Go gettem Donnie, its all you today!" I pedaled down Wolf trail and managed to briefly feel ok again climbing the road into aid station 2 but quickly into Aid 2 I confirmed my decision to pull out. Donnie would go on to the ride of his life, running scared, and would win the Shenandoah Mountain 100 SS division in class form. He couldn't believe it and I am unbelievably stoked for him. Don's win was HUGE for him but also cemented my NUE series title for 2015. Putting emphasis on why the NUE may be one of the hardest series of events anywhere I know of and making any one race pivotal. Having already banked 4 ss wins I was able to play defense and enjoy myself at other events. IM proud of Donnie and excited for his big win.
After pulling out I met emily at Aid 2 where she was riding with a friend. She was sad to see me there but knew I wouldn't have pulled out if I could have gone on. She beat me up the hill on the way back to the car….I ended up in the ER that afternoon with a 104 fever and all my symptoms right back. What a win.
With Fools Gold to come but the SS title wrapped up a lot of pressure was off. We rested and recovered and were excited to have all our friends stay with us for Fools Gold. It was an awesome time, a decent race (I rode my SS to 5th open, but flagged in the second lap as my body was still recovering and my upper body had lost a lot of its power) and were glad to end the season with another NUE win and a 5th in Open (I think, the numbers are fuzzy and Ive never been good with numbers anyhow!). Even after Fools Gold I could tell my body needed time and to replace the energy it had burnt all year long. Ive done some small local events, some as duo with Emily but mostly have found that I need some prolonged recovery.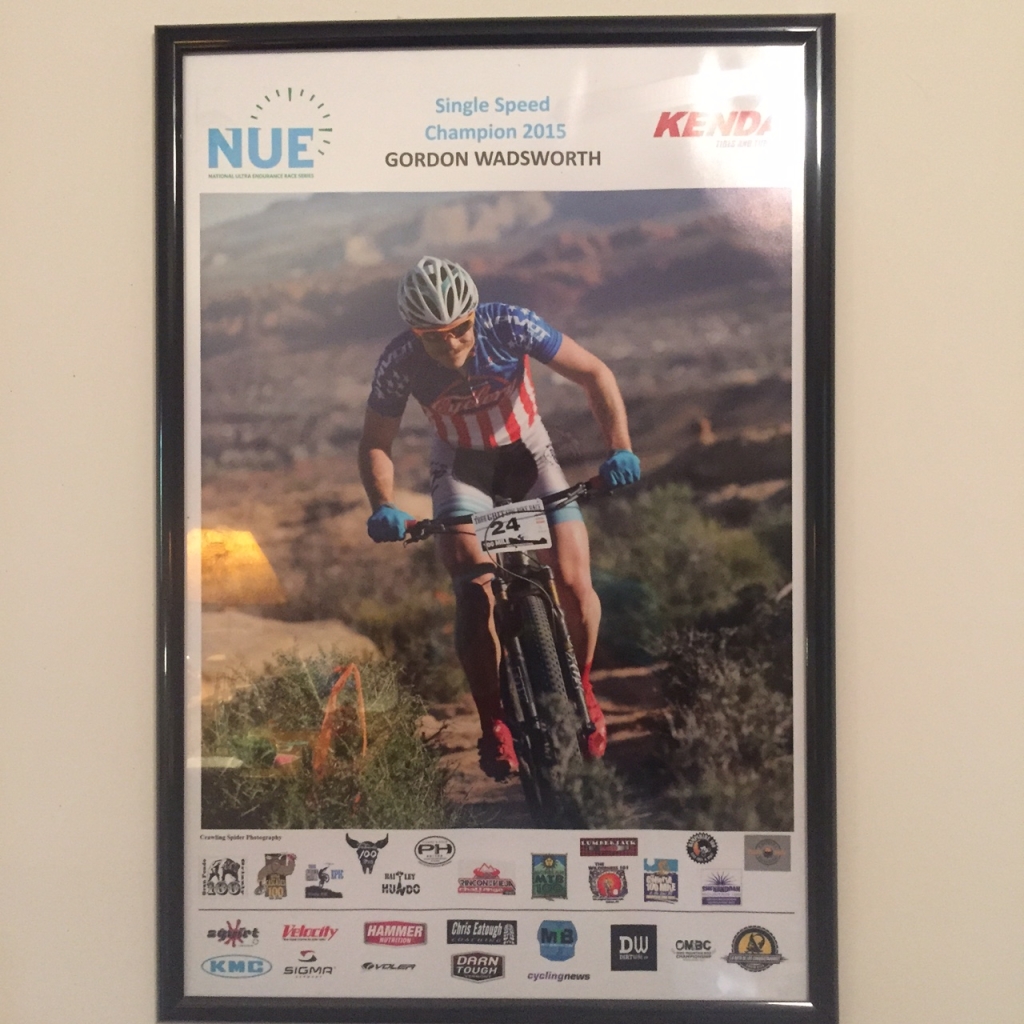 Seasons come and they end. The cycle of racing a mountain bike is an invigorating and sometimes exhausting one. Racers often liken an individual race to a matchbook, where each effort takes a match, and once they are gone they are gone. In my experience a season full of endurance racing is like a matchbook too, where even if you take significant rest mid-season as I try to you will still likely end up with prolonged fatigue and very few matches left at the end of the year. The sickness I encountered burnt the last few matches I had left for the season and so for me the fall has been a lot about "off" season, even with LaRuta 2015 still looming. Ive opted to take a few weeks off or nearly off to let my body recover and relax. Ive sought the advice of friends and have made an effort to relax and recharge. Spent a few days in the GA mountains with friends, flatted a lot (that's my new thing apparently), chopped a lot of wood for the winter, and in general made an effort to focus really hard on staying fit while keeping my bike time down.
LaRuta still looms, only a few weeks away at this point, and I m rapidly becoming excited for this incredible journey to begin again. Look for more on that later because there will definitely be LOTS to tell!